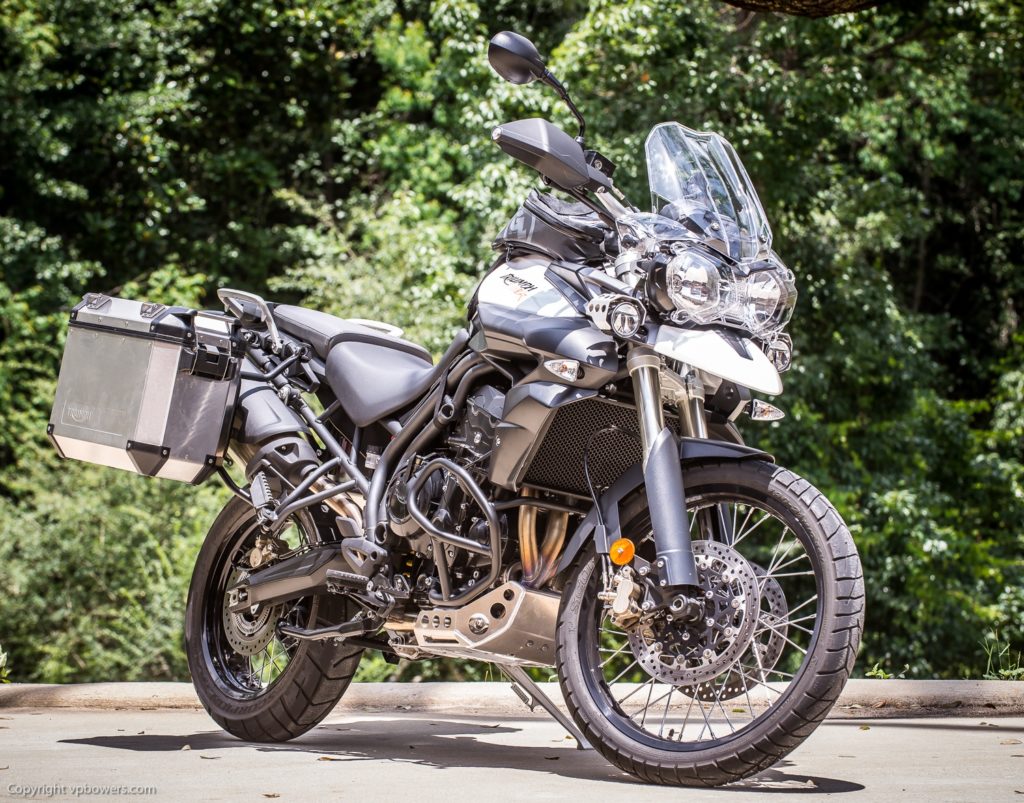 Chassis
Suspension:
The suspension travel for the Tiger 800XC is a huge 220 mm at the front, 215 mm at the rear. Just what you need on poor condition trails. We fitted 45 mm Showa upside down forks along with a preload and rebound adjustable Showa monoshock so you can adjust for either off or on-road riding.
Brakes:
We needed to give you enough stopping force on the road without being too sharp or intimidating in the dirt. So at the front of the Tiger 800XC is a pair of 2-piston sliding calipers and 308 mm discs, with a 1-piston caliper at the rear and a 255 mm disc.
ABS is standard but this can be switched off for off-road riding where you might want to be able to lock up a wheel.
Wheels:
We added spoked wheels to the Tiger 800XC for better cushioning on rough terrain. The front is a big 21 in. diameter to take dedicated off-road tires and cope with holes and ridges. And the front mudguard is higher so that clogging mud won't spoil your ride.
Riding Position:
We built the Tiger 800XC to have genuine off-road capability, so it's tall with an upright and very spacious riding position. We made the bars wider than the standard Tiger 800s to give you extra maneuverability and the seat is lofty, although it's easily adjusted without the need for tools.
Despite your high up stance the screen does a great job of fending off the wind pressure so you can stay at motorway speeds for as long as you need.
We even gave your passenger plenty of room, chunky grab handles and well positioned footrests so long distances are no less comfortable on the back than they are for you.
Adjustable Seat Height:
You can adjust the seat height without tools between 845 mm and 865 mm to suit different kinds of riding.
Handlebars:
The aluminum handlebars can also be adjusted fore and aft and the handlebar levers are span-adjustable.
Frame:
As you'd expect the Tiger 800XC uses the same tubular steel trellis frame as the Tiger 800 so you know it's strong enough to take the knocks during serious off road use. The rear sub-frame is the same, designed to take our capacious panniers and big top box, plus a passenger, then go places where pure road bikes dare not venture.
Engine
Performance:
The 3-cylinder 95 PS engine, like the rest of the Tiger 800XC, is made for adventure.
But this is a Triumph so there's a lot more to it than clinical horsepower.
Transmission:
With so much torque spread right across the rev range you can pull hard from low revs. That's great for overtaking without the need to work the gearbox and touring effortlessly through mountainous terrain, but it's also exactly what you need to dig yourself out of tough off-road situations.
We gave the Tiger an animated snarl that adds a whole new layer of character. An engine that communicates and encourages you to use it to the best of its, and your, ability.
The rugged dependability applies just as much to the transmission: 6 gears, a tough clutch with a light lever action that's needed in difficult conditions, and chain drive for simplicity, reduced weight and the best ground clearance. This makes it easy to alter the final drive ratio for sustained low speed riding.
Equipment and Technology
ABS:
Immobilizer:
This prevents a copy of the correct key being used to switch the bike on.
The ABS system on the Tiger 800XC uses the latest technology to prevent wheel lock-up in any condition you find yourself in. And it can be switched off for off-road use, in case you want to lock a wheel up deliberately.
Just in case your Tiger 800XC attracts the wrong kind of attention, we've added a high technology security system. It detects a microchip in the key body and if it's not present the ignition system is disabled.
Instruments and Computer:
With the Tiger 800XC you are fully equipped for all kinds of conditions, on-road and off. As standard you get the rear rack, along with the sturdy hand protectors and the coded key immobilizer for security.
The dash shows you all the information you could need including average and instant fuel economy and range remaining, fuel gauge, service indicator, gear position and clock as well as speed and engine rpm. It's also preconfigured for the optional Tire Pressure Monitoring System.
Alternator:
Serious all-weather riders expect to be able to use additional electrical equipment, so we fitted the Tiger 800XC with a high output alternator. Plenty of power for you to use heated grips, spotlights or electrically heated clothing. All of which are available as extras.
Screen:
We added the aerodynamically optimized screen to take the force out of the slipstream and make your ride comfortable at sustained high speed.
Luggage Capacity:
You never know where you'll end up on a Tiger 800XC so you need to prepare for any eventuality. And that can mean taking a lot of equipment with you. So luggage options include the capacious adventure-style panniers and top case, tank bags, tail packs and inner bags to suit every need. All developed in conjunction with the Tiger 800XC, so wherever you go you can take it all with you. There's even a clever lever behind the headlights for when the bike is loaded up, to dip them lower and compensate for the tail-down stance. No tools needed, just pull the lever and the lights are pointing along the road once again.
General Information
Brakes/Wheels/Tires
Front: (2) 308 mm floating discs, Nissin 2-piston sliding calipers, switchable ABSRear: (1) 255 mm disc, Nissin 1-piston sliding caliper, switchable ABSFront Brake Master Cylinder: Nissin master cylinder, 14 mm diameter
Front: 21 x 2.5 in. aluminum rim, 36-spokeRear: 17 x 4.25 in. aluminum rim, 32-spoke
Front: 90/90-21Rear: 150/70 R17
Dimensions
54.7 in. (1,390 mm) (without mirrors)
34 in. (865 mm) (handlebars)
33.2 – 34 in. (845 – 865 mm)
Drivetrain
Engine
DOHC, 12-valve, in-line 3-cylinder
94 bhp (70 kW) @ 9,300 rpm
58 ft. lbs. (79 Nm) @ 7,850 rpm
Multi-point sequential electronic fuel injection
Stainless steel 3-into-1, high level stainless steel silencer
Operational
Tubular steel trellisSwingarm: 2-sided, cast aluminum alloy
Front: Showa 45 mm upside down forks; 8.66 in. (220 mm) travelRear: Showa monoshock with remote oil reservoir, hydraulically adjustable preload, rebound damping adjustment; 8.47 in. (215 mm) travel