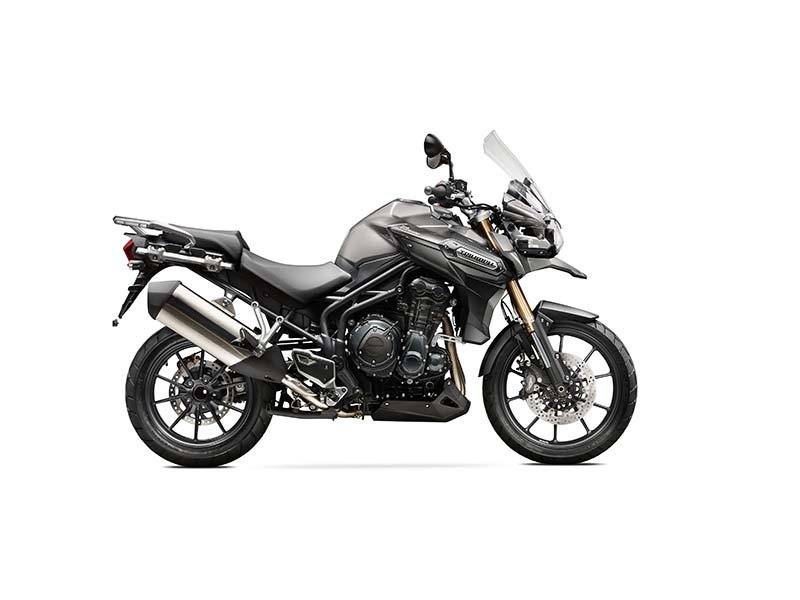 Chassis
Riding Position:
Handling:
Wheels and Tires:
Brakes:
Suspension:
Frame:
The riding position is perfect. High, upright and dominant with wide bars and plenty of space. Even your passenger gets plenty of space as well as large grab handles for their reassurance and safety.
Comfort is crucial on a bike designed for extended touring trips, so for the Tiger Explorer, we've concentrated on that for both the rider and passenger.
The Tiger Explorer is such an easy, natural handling bike. Be it low speed corners or fast sweepers, the Explorer shows outstanding handling manners. The wheelbase is long at 1,530 mm so you have plenty of room on board and excellent stability.
The 10-spoke, cast aluminum wheels, 17 inches diameter at the rear and 19 inches at the front, are perfect for off-road riding and effective at dealing with poor road surfaces.
Braking is looked after by a pair of 4-piston calipers and twin 305 mm discs at the front backed up by a single rear disc, all controlled by our advanced, switchable electronic ABS system.
The suspension on the Tiger Explorer is built to cope with any kind of riding condition. We used tough 46 mm forks at the front with an extended 190 mm of travel, ideal for rough roads and long distance comfort. And at the rear, the single shock provides 194 mm of travel and features a hydraulic remote preload adjuster and adjustable rebound damping.
We built the tubular steel frame of the Tiger Explorer in the same style as other Triumphs. But it's made extra tough to deal with the stresses of off-road riding and on the road too, where you can load the Tiger Explorer heavily and still ride at high speeds or on badly maintained back roads in full control and comfort.
Engine
We designed a rugged transmission comprising of a strong 6-speed gearbox and an exceptionally tough shaft final drive. This gives you smooth power delivery yet is capable of dealing with the shocks and knocks it can face off-road. And, it hardly needs any maintenance, so you can get on with your ride without worrying about it.
Shaft Drive:
Double overhead camshafts operate the 4 valves per cylinder for an engine that does what it was made to do even when the bike is fully loaded with rider, passenger, a full complement of luggage and facing a steep mountain climb.
Double Overhead Cams:
The fuel injection is controlled by a ride-by-wire throttle system using computer control to give you the torque you need in the most efficient, predictable way.
Ride-by-Wire:
Not only does the Tiger Explorer boast great power, its engine has an evocative character with a creamy power delivery and unmistakable Triumph growling soundtrack.
We gave the Explorer a 1,215 cc 3-cylinder engine. Built with the latest technology to be strong, dependable and have the low maintenance levels you need on long adventures. It has plenty of power and torque with a hefty 137 PS at 9,300 rpm, and 121 Nm at just 6,400 rpm. Usable torque low down in the rev range where you need it most.
Performance:
Equipment and Technology
Switchable ABS:
The standard ABS system uses the latest technology to prevent wheel lock-up in any condition you find yourself in. And it can be switched off for off-road use to match your riding style.
950W Alternator:
As a serious all-weather rider you would expect to be able to use various electrical devices, so the electrical system is powered by a class-leading 950W alternator. Plenty of power for you to use on the optional heated grips, spotlights, and seats.
Immobilizer:
We added a coded key immobilizer system in case your Explorer attracts the wrong kind of attention. It disables the ignition if an attempt is made to turn or force the ignition switch without the presence of the electronically coded correct key.
Optional Spoke Wheels:
An option on the Tiger Explorer is spoke wheels and tubeless tires adding even more off-road ability.
Screen:
Steady motorway speeds are made easy by the aerodynamically designed adjustable screen, which fends off the slipstream without creating undue turbulence or excessive wind noise.
Cruise Control:
Traction Control:
Instruments and Computer:
The Tiger Explorer tells you everything you need to know on a journey. The LCD instruments use handlebar mounted thumb switches with up / down scroll facility and feature a comprehensive onboard computer including 2 trip meters displaying distance covered, journey time, average speed, average fuel consumption, instant fuel consumption, range to empty.
Also visible on the LCD screen is the odometer readout, tire pressure monitoring system readout (if fitted), heated seat power indicator, cruise control operation information and service interval. There is also an on-screen alert for freezing temperatures as well as a numeric readout for ambient temperature.
12V Power Socket:
We've added a 12V power socket close to the ignition switch for a GPS unit or heated clothing.
Adjustable Seat Height:
Payload:
The Tiger Explorer's payload is an incredible 222 kg. Ideal for those long adventures.
Cruise control is fitted to all Tiger Explorers, easing fatigue over long distances and optimizing fuel efficiency.
We made the seat broad, flat and easily adjustable to either 837 mm or 857 mm – no tools needed. So you can get comfortable whatever your size, while even the bars and levers adjust for finer tuned ergonomics.
The Tiger Explorer also comes with traction control as standard to give you added safety and confidence in slippery conditions. The system reassuringly keeps wheel slip to a manageable level by reading the speeds of both wheels, along with numerous engine parameters, and adjusts performance to assist the rider in maintaining a safe course.
General Information
Brakes/Wheels/Tires
Front: (2) 305 mm floating discs, Nissin 4-piston calipers, switchable ABSRear: (1) 282 mm disc, Nissin 2-piston sliding caliper, switchable ABSFront Brake Master Cylinder: Nissin master cylinder, 16 mm diameter
Front: 19 x 2.5 in. aluminum rim, 32-spokeRear: 17 x 4 in. aluminum rim, 32-spoke
Front: 110/80 R19 Rear: 150/70 R17
Dimensions
55.5 in. (1,410 mm) (without mirrors)
34.8 in. (885 mm) (handlebars)
32.9 – 33.7 in. (837 – 857 mm)
Drivetrain
Engine
12-valve, DOHC, in-line 3-cylinder
135 bhp (101 kW) @ 9,300 rpm
89 ft. lbs. (121 Nm) @ 6,400 rpm
Ride-by-Wire, fuel injection
Stainless steel 3-into-1, side-mounted stainless steel silencer
Operational
Tubular steel trellisSwingarm: 1-sided, cast aluminum alloy with shaft drive
Front: Kayaba 46 mm upside down forks, adjustable preload; 7.5 in. (190 mm) travel Rear: Kayaba monoshock with remote oil reservoir, hydraulically adjustable preload, rebound damping adjustment; 7.6 in. (194 mm) travel